i got the concept for this page from this post on "creating sarah."  i paired it with my big dipper page and they both have the same sparkly black background.  both this page and the big dipper page are based on similar concepts ("drawing" an image with a piece of string through pre-defined points), but i wanted to try both and compare the construction and the play factor.  here's what it looks like without the dots "connected:"
the first image i attempted was a rocket.
unfortunately, it turned out looking like a demented clown.  or something.
i tilted it to a 45 degree angle and added some flames and i think it's slightly more rocket-y now, but still not quite right (it's hard to get curved lines!).  so for my second image, i tried a more simple star shape.
i also sewed the string to the magnets at an angle (instead of straight in one side and out the opposite side).  this made the lines of the star much cleaner and neater!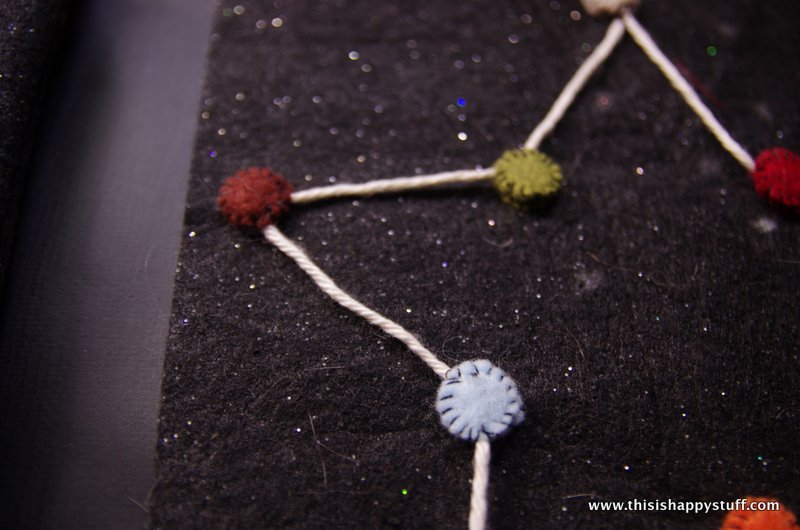 this is what it looked like the first time the happy toddler tried the page.
this was definitely more "fiddly" sewing than the "big dipper."  each spot of the image needed three small felt circles cut and i hand-sewed one circle (on top of a magnet) to the page, then sandwiched a second magnet and the string between the other two felt circles and hand-sewed them together.  why hand-sew?  because when you machine-sew near magnets, they tend to be attracted to the needle and then the needle smashes down right on top of the magnet, breaking the needle.  was it worth it?  well, i think it's entertaining to play with!  the magnets are strong and when they "zip!" onto one of the dots on the page, it's kind of fun!  and i think after he's figured out the whole tangly mess, the happy toddler will enjoy it too.