i recently found a vintage "infinity" scarf at a local resale shop that i loved for its size, light weight and easy wear (it's no more hassle than a necklace!).  i studied the construction and realized it was sewn on the bias and had a subtle center seam along the inside.  i bought it, but knew that if i wanted more, i'd have to make them myself.  i went home and searched online for "bias cut infinity scarf" tutorials and came up empty-handed.  there are a million and one infinity scarf tutorials, but only ones that follow the grain of the fabric. the bias cut (bias=fabric is cut on a 45° angle instead of perpendicular to the weave) is key to making this pattern work well (especially with gauzy or crepe-like fabrics) because it gives the circle a bit more stretch and a lovely, soft drape.
i began developing my pattern.  over the course of two days, i cut out multiple versions of this scarf in several different kinds of fabrics and different sizes.  i ripped stitches out countless times.  each time, i thought i'd figured it out, and the i'd turn it right side out and realize that once again, the center seam that was supposed to run around my neck, instead ran perpendicular to my neck and the scarf was in completely the wrong shape. there was something fundamentally confusing about this pattern–it has to do with three-dimensional geometry and logic, but even my logic-minded husband could offer no more helpful advice than, "sew it the other way."  for two days, i tried to "sew it the other way" and when i finally, finally figured it out,  i had to share it with you.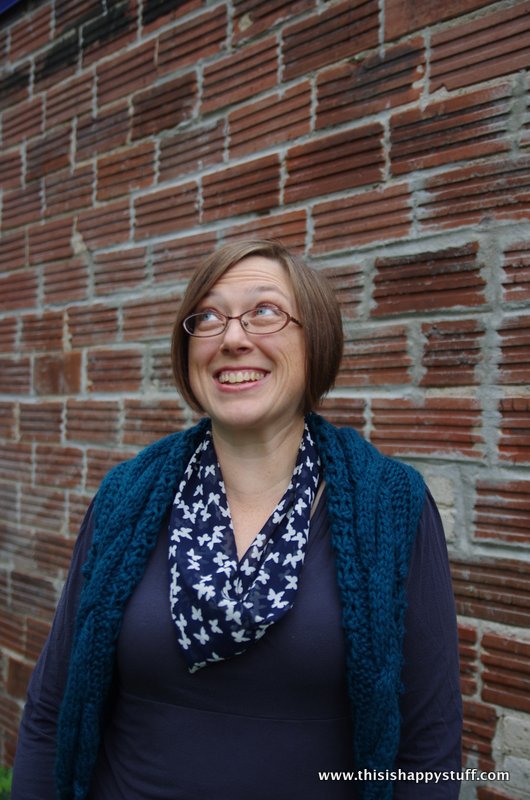 once you know the trick, it's simple.  just two seams and you're done!  but first, you have to figure out how to cut out a parallelogram on the bias.  ready?  let's try it!
the bias-cut, interior seamed, "conundrum" scarf tutorial
you need:  about 2/3 yard fabric (gauze, crepe, knit… anything that drapes softly will work fine for this pattern), The Conundrum Scarf Measuring Guide, thread, large cutting mat, acrylic ruler and rotary knife
the video tutorial:
quick written instructions (for those of you who like to read directions.  silly you.):
1.  cut out a parallelogram from your fabric, where the "straight" edges are cut on the 45° angle.
2.  sew your slanted sides, right sides together, to create a simple tube of fabric.  (as you're sewing it, it will look lumpy and weird.  you're doing it right.)
3.  lay your tube flat on a table and flop the bottom edge up to the top edge.  all of your raw edges should now be aligned (four layers).
4.  pin the very top layer of fabric to the very bottom layer of fabric (leaving the middle two layers free)–just a few pins will do.
5.  sew all the way around the circle (leaving a hole to turn it inside out).
6.  turn it inside out.  press it (optional).  stitch the hole closed.  done.
variations
long (doubled)–
long (knotted)–
wrist cuff–
short–
short (worn as a head scarf)–
now the fun part.  i'm giving away three conundrum scarves to one lucky reader!  If you would like to own the navy + butterflies scarf created in the video, the striped wrist cuff and one of the brown zebra-print long scarves, simply leave a comment on this post telling me whether you preferred the video tutorial or the written instructions and whether there's any part you're still confused about.
you can earn extra entries by tweeting about this post (use the hashtag #conundrumscarf so i can find your tweet), and/or pinning this post on pinterest.  i'll also give double entry points to anyone who makes a conundrum scarf, then shares photos online (your choice of venue, please link back to this post!)–be sure to come back and leave a comment here including a link to your photo!  the giveaway ends at midnight, sunday, september 30 and the winner will be announced sometime that week.
p.s. many thanks to nicole for the fantastic photographs in this post and to alison for the video segments that open and close the video tutorial!